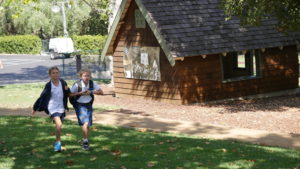 At the heart of our campus sits the Village of Friendly Relations. Built by our students back in the late 1930s, these small houses represent the physical manifestation of founder Mary Orem's vision for how Hillbrook (then called The Children's Country School) could make the world a better place. The Village serves as "an experimental plant for promoting Peace," she wrote in a letter in September 1937. She continued,
"Training for peace must begin in the nursery, where tolerance and a willingness to share are natural outgrowths in adjustment….to discard the chaff before prejudice has a chance to set in… (to show) that friendly settling of disagreements is possible in a group of variegated backgrounds and so through understanding and working for a common good, Peace is possible."
More than 80 years later, we remain committed to this idealistic and optimistic notion – the belief that through an educational experience that prioritizes engagement, collaboration, social emotional learning, and student choice, our students are inspired to become changemakers and leaders, individuals who look for ways to reach beyond themselves to make a difference in the world.
We are in the middle of Hillbrook's inaugural "Week of Service," a weeklong exploration of how our community can reach beyond ourselves to engage both on and off-campus in meaningful service opportunities. Inspired by the 9/11 National Day of Service and Remembrance, the week provides us an opportunity to link our efforts to a broader, national effort.
As we noted at Flag this past Monday, 9/11 has become a historical event for our students, not all that different to them from other historical events like Pearl Harbor, the Civil Rights Movement, or the Vietnam War. For all of us adults, who have strong and indelible memories of that day, it is often hard to recognize how quickly something shifts from a felt memory to just another historical event read about in history books. With this in mind, it is important that we find ways to teach them in age-appropriate ways about that day and help them understand that giving back and making a difference in the world are not only Hillbrook values, but values that are shared by many within our local, regional, and national communities.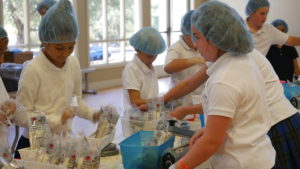 This week our students are having an opportunity to learn about hunger, poverty, and homelessness, serious and complex issues that are somewhat invisible to many within our community, particularly students. We are working with a broad range of local organizations – St. Luke's Pantry, House of Hope, San Jose Family Shelter, Georgia Travis House – to provide hands-on experience and education for our students. In the process of serving others, our students gain insight into the broader needs of the community and the ways, both big and small, that they can help to make a difference.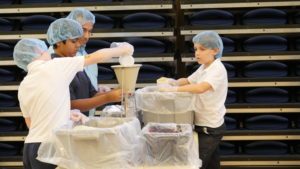 We are also finding opportunities to engage with other local organizations, in the process strengthening our connections with the broader Los Gatos community. Last Spring, our school received an $800 prize from the Los Gatos Rotary as the largest team to participate in the Great Race (over 65 members of the Hillbrook community participated!). When we learned of the prize, we immediately talked with the Rotary Club and decided that together we would utilize the funds to support Stop Hunger Now, an international organization committed to ending world hunger.  Thus, this week, volunteers from Los Gatos Rotary joined with students and parents from Hillbrook to package more than 15,000 meals. As explained on the Stop Hunger Now website, "meals are shipped throughout the world to support school feeding programs, orphanages, and crisis relief. The food is stored easily, transported quickly, and has a shelf-life of two years."
We are proud of the impact our efforts are having this week, efforts that build upon the extraordinary work we have done in previous years as part of our service learning efforts. Whether it is the fifteen libraries created in Malawi through the African Library Project or the school foundation laid in Nicaragua by our students two years ago, the thousands of meals served at local shelters or the hundreds of students at local elementary schools positively impacted by our Middle School students, the indelible connections forged between our third graders and special-needs students from the local public schools or the passionate commitment to recycling inspired by our many green projects, our community has always been committed to making a difference in the world.
Since 1935, we have believed that through the creation of an educational environment that nurtures, challenges and inspires, we can raise children who will change the world. While many things have changed in the past 80 years, our "experimental plant for promoting peace" continues to thrive and grow both on and off campus.