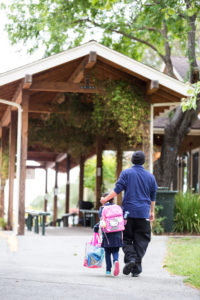 August is a time of entries (and reentries). The largest cohort of new students and families in our history is joining the community this year, as we increase our enrollment to 339 students. In addition, we welcome a new group of teachers and staff members to join our extraordinarily talented team.
At Hillbrook, we put a lot of time and thought into how we structure these entry experiences. From those first moments in March when families enthusiastically open the envelopes with their acceptance letters through the welcoming committee events coordinated throughout the summer, we focus on helping families not only learn the organizational details that they need to know to prepare for the first day of school, but also on helping families develop the connections they need to ensure they feel like full members of our community when school starts on August 31.
For me, on-boarding new community members means dedicating a significant amount of my time during the summer to meeting with new families. These conversations provide me an opportunity to connect with people and hear their Hillbrook stories. I'm always impressed with the thought and intention that people have put into their decision to join Hillbrook, and I continually find myself inspired and humbled by the commitment that families are willing to make to ensure their children are able to be part of Hillbrook's extraordinary educational experience. As in past years, several families shared with me that they moved to our area in order to be part of our community.
In addition to working with new families, we also pay careful attention to how we integrate new teachers and staff members into our community. Last week, we had a three-day orientation that helped prepare these new employees for the start of the school year. While some time was spent sharing nuts and bolts essential to helping new employees successfully perform their jobs, a significant amount of time during the orientation was devoted to conversations focused on Hillbrook's vision, mission, core values, and history. We shared stories about Hillbrook traditions, like Flag, reflected on our continuing connection to the progressive educational philosophy visibly reflected in things like the Village of Friendly Relations and our many flexible classroom spaces, and talked about how the core values – be kind, be curious, take risks, be your best – animate everything we do as a school.
One of the threads that struck me this year during conversations with both new families and new employees was that Hillbrook is a school of optimism and hope, a school committed to celebrating and preserving childhood. It often feels like we live in a time of fear and anxiety, a culture that is particularly visible when we look at how our society approaches parenting and education. The sometimes overwhelming narrative that we as parents hear is that we need to protect our children from the world around us, that our children must do more, earlier and faster than before, or else they will not make it when they grow up. We are told to fear for their futures, and to start preparing and protecting them from the day they are born to help them compete in an ever-more competitive world.
At Hillbrook, I like to think that we reject the fear. We believe that preparing our children for the future means creating an educational experience that prioritizes skills – communication, critical thinking, collaboration, and creativity – that will equip our children to tackle any and all challenges that come their way. We believe that creating experiences that prioritize student engagement and choice, and leave room for struggle and even failure, help children develop the independence, the flexibility, and the resilience necessary for success in an increasingly ambiguous world. Our job is to help students develop a sense of agency and to identify a purpose larger than the self, so that they may be positive solution-makers when they leave school. Just as importantly, we believe that preserving childhood – allowing children to remain children longer – enables our young learners to develop into confident, self-aware, and capable adults. Imagination, play, joy, and laughter remain critical components of the Hillbrook experience.

The night before the first day of school I always have a difficult time sleeping. Despite more than 20 years as an educator, I find myself tossing and turning, anxiously anticipating the arrival of students and families to campus. Yet, each year, as I look out at the sea of clean uniforms, fresh haircuts, and smiling faces eagerly awaiting the start of our first Flag, I am filled with an incredible sense of optimism and calm. It is the confidence of knowing that I am working with an extraordinary team of educators and that we are partnering with you – our families – in the most important and rewarding work there is – inspiring children to achieve their dreams and reach beyond themselves to make a difference in the world. The future is bright indeed.