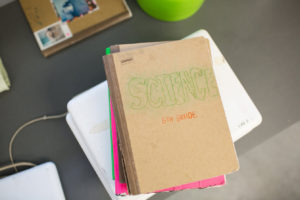 As a school, we have a long commitment to creating and nurturing a culture of reflection. We seek input and feedback and strive to work in partnership with families to meet our mission each and every day. We have always recognized the importance of gathering feedback from our community and using that feedback to help us both appreciate and affirm our strengths and also identify areas for growth and improvement.
This past year, we partnered with an outside firm, Pacific Consulting Group (PCG), to create, administer, and analyze a family survey. We sent out the survey to the community in November and invited all current families (representing 255 households) to respond. A total of 175 households completed the survey, representing an impressive 69 percent response rate. PCG shared the results with the school and then created a presentation for us to deliver to our community. The PCG presentation was shared at the HSPC meeting in April.
The survey was separated into ten areas – Educational Skills, Lower School Educational Program, Middle School Educational Program, School Programs, Teachers, School Leadership, School Culture and Community, Communications and Parent/Guardian Involvement, Facilities and Transportation. Parents also rated their overall satisfaction with Hillbrook. The results were strongly affirming for the school, with high satisfaction ratings in every category, including an overall satisfaction rate of 91 percent. 97 percent of families would recommend Hillbrook to a friend or relative, an incredibly high percentage.
One of the appeals of hiring PCG to administer the survey was that they conducted a leverage analysis of the results. The leverage analysis identified the school's strengths to focus communications and highlight those areas where we are doing well and that are important to families. The leverage analysis also identified areas where improvement will create the most impact. These are areas where people are relatively dissatisfied and/or the area is very important to people. As PCG noted, improvement in these areas creates the biggest "bang for the buck."
The survey reaffirmed our strengths, encouraging the school and community to highlight these areas when discussing the school :
Strong leadership that includes school leaders who treat people with respect and who provide a clear and compelling vision for the school

Exceptional teachers who combine a deep knowledge of their subject with a deep understanding of each child and responsiveness to parental communication

An extraordinary campus, that includes excellent facilities
On the other side, the survey suggested three areas that we should focus our improvement efforts. First, family's are very interested in seeing us do even more to meet each child's individual learning needs. PCG included a few quotes to help show how families respond when we do this well, as well as what families suggest for improvement. As an example of what it looks like when done well, one family wrote, "We have been thrilled at how much Hillbrook has seen our kids as individual learners with a lot to say and offer the world. Our kids have gained confidence and are more engaged in learning than ever before." On the other side, families suggested that we might find more effective ways to challenge students. As one family wrote, "I think Hillbrook has a good program but needs to get a little more educationally intensive. For students who are academically ahead it appears that they don't feel as challenged."
The second and third areas were closely related, with families offering suggestions about how we can better help each child reach their highest individual potential and communicate student progress in ways that makes sense to both students and parents. As an example of what it looks like when done well, one family wrote, "I am so happy that Hillbrook and their teachers are willing to differentiate learning for kids. Some are advanced and some are not and I feel like they do a good job of adjusting the curriculum based on the child."
On the other side, one family encouraged us to reconsider our homework, writing, "I think overall homework can cater to each child more. I find that it could be more challenging. This doesn't necessarily mean traditional homework, but more project-based, integrated learning that truly engages." Another family suggested we reconsider parent/teacher conferences writing, "20 minutes feels quite rushed to cover a child's academic progress, social & emotional status, and allow for questions. Our teachers know our children so well, they have such rich feedback to share with us, and I come away from conferences feeling like an incremental 10-25 minutes would be so very helpful."
In addition to the leverage analysis, PCG included survey results that addressed some general areas. For example, the survey affirmed that both "The Week Ahead" and "Hillbrook Happenings" are used by the vast majority of families, with 88 percent using the former and 85 percent using the latter. When asked, "How would you rate Hillbrook's level of initiative in identifying opportunities for parent/guardian involvement?" 90 percent of families said "about right," a strong endorsement of the HSPC and the school and how we structure volunteer opportunities. Additionally, 80 percent of families felt that our level of initiative in soliciting financial support was "about right." Eighty-seven percent of families are satisfied with our transportation programs, with 77 percent of families using our transportation services.
The survey also affirmed the school's success in creating an inclusive community, with 98 percent of families saying that both their child and their family felt included at Hillbrook. When asked about our vision and mission, 80 percent of families felt like Hillbrook was successful in achieving it. As one family wrote, "Our kids love waking up to go to Hillbrook and are excited to share what they are learning, and are learning a great deal on all fronts. Their confidence, knowledge, and life trajectory is far beyond mine at the same ages and it's very impressive. I believe Hillbrook's mission contributes to these traits in our kids." As another family wrote, "Every child deserves a school like Hillbrook and we have seen our child blossom and thrive and grow by leaps and bounds in so many areas—academically, in her confidence, in her ability to become more responsible and self reliant. Her overall happiness with school has grown tenfold, and that is priceless."
Overall, we feel that the survey reaffirms the focus of Vision 2020, and it has us well-positioned to build on our strengths, while addressing key issues identified in the survey. In particular, we believe that the school's focus on reimagining the student experience, with particular attention on how we use time, how we challenge each child, and how we strengthen our assessment system, will ensure we are able to make meaningful progress in our efforts to meet the needs of each child and help each child reach their highest individual potential.

This was the first time that we have conducted a survey with PCG, and we plan on bringing them back every two years to measure our progress and help us continue to identify our strengths and areas where we can improve. We are excited that this new process offers us a meaningful and effective way to gather feedback for the school, something that we know is essential to ensure we continue to grow and thrive as a school.