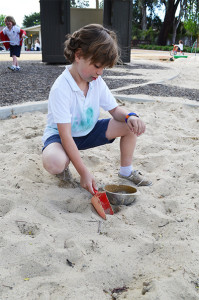 To my mind, there may be no more quintessentially Hillbrook artifact than the white shirt. We have often envisioned an ad which would show a white shirt with a series of stains – a touch of red paint on the front, a dash of Epicurean lunch on the collar, mud stains up the back from running across campus, a bit of whiteboard marker on the sleeve. At the bottom of the ad might be a tagline like, "Got dirt?" or "Evidence of an Extraordinary Education," and perhaps in really small letters at the bottom, "Bleach and Spray n Wash not included."
What is it that I love so much about the white shirt?
It tells our story. At Hillbrook, we believe that a good day is a day in which children embrace the messiness of learning. Every morning fresh white shirts arrive on campus, ready to take on the challenge of a Hillbrook day. By 9:30 am shirts look a bit more frayed – perhaps a hand absent-mindedly wiped on the shirt as a student wrestles with a complicated math problem on a white board table or a bit of dirt on the sleeve from efforts to build an artificial hand in science class. By noon, multiple stains have started to emerge, evidence of specialist and elective classes, a few well-traveled trips across campus, a bite of lunch, and an intense game of gaga ball in the Middle School or digging in the sandbox on the JK-2 playground. By the end of the day, the clean white shirt has been replaced by a dirty, stretched out, off-white shirt that bears only a passing resemblance to its early morning facsimile. One glance as a parent at your child's white shirt at 3:30 pm tells you that it has been another active, engaging, fully-lived day at school.
As the person who typically does laundry in our house, I am well-aware of the increasingly daunting challenge over the course of the year to restore the white shirt to its original splendor. After several months, even bleach and Spray n Wash have a limited impact.
Thus, it is with genuinely mixed emotions – a bit of sadness AND untold relief – that I share that we have decided to add navy blue shirts to the uniform next year. The decision comes as a result of a two-year effort by the Student Council to expand the possibilities for the student uniform. Through conversation with the Student Council, we learned that students really wanted the navy blue shirt option. As we sought out perspectives from adults in our community, we were not surprised to learn that parents were equally eager to have a new option, one that wouldn't get quite so dirty day in and day out. Thus, with only a bit of hesitation, we have embraced the change and we will be adding the navy blue shirt option to the mix next year. White shirts are still allowed. In addition, we will likely implement a specific uniform for concerts and all-school pictures, most likely the white shirt, so all students will want to have at least one white shirt in the mix.
So, as students arrive on campus next year, I will be greeted by a new sight – a sea of white AND navy blue shirts. It will be a small, but significant, change, for no longer will I necessarily be able to tell what type of day it has been for each child by reviewing the shirts at carpool. And, yet, I know that regardless of the shirts, the Hillbrook experience will not change. Each day will continue to be a day a joyful learning, filled with all of the excitement, challenge, and, yes, messiness, that we all know is the result of an extraordinary education.